---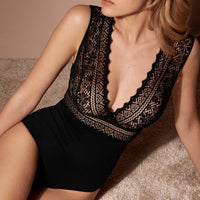 This beautiful Empreinte bodysuit is crafted with the most delicate of European techniques. It features exquisite embroidery at the bust, with a modest brief adjoining for the most sophisticated of looks. If you love the best selling Empreinte Cassiopee bra, this is for you! 
Do not bleach. Do not professionally dry clean. Do not tumble dry. Do not iron. Hand wash only. 
If you need advice or are unsure about sizing, feel free to contact us by phone or email. 
Are we out of stock in your size? Email us at info@acte3.com.au and we will do our best to get it for you. Please note this may not be available in some seasonal or discontinued styles. 
If you can't find what you're looking for or have a question about styles or anything else, please email us. We're open 7 days a week and will get back to you as soon as we can! 
As our garments are made by a variety of manufacturers, sizing is not consistent across the website, but rather is dependent on each manufacturer. 
A comprehensive sizing chart is coming soon! Thank you for your patience.