---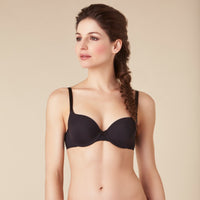 Part of the versatile Miss Joy Range, this higher coverage style of T-Shirt bra is perfect for everyday wear. Supportive and comfortable yet still with a touch of flair, you'll want to wear your bra! Smooth cups provide invisibility and moderate coverage, and the ultra-fine layer of tulle over the top is part of the stand out Passionata look, as is the tiny butterfly between the cups. The cups are made of innovative spacer fabric, designed to be as light and breathable as possible, making this a great travellers companion. 
Please note that Passionata uses French cup sizing, which is different above a D cup. If you are above an Australian/UK D cup, please select a size based on the brackets (e.g. 32DD) 

76% Polyamide; 24% Elastane
Do not bleach. Do not professionally dry clean. Do not tumble dry. Do not iron. Hand wash only. 
If you need advice or are unsure about sizing, feel free to contact us by phone or email. 
Are we out of stock in your size? Email us at info@acte3.com.au and we will do our best to get it for you. Please note this may not be available in some seasonal or discontinued styles. 
If you can't find what you're looking for or have a question about styles or anything else, please email us. We're open 7 days a week and will get back to you as soon as we can! 
As our garments are made by a variety of manufacturers, sizing is not consistent across the website, but rather is dependent on each manufacturer. 
A comprehensive sizing chart is coming soon! Thank you for your patience.